---
Multilevel Interbody Fusion for Radiculopathy
Evan D. Sheha, MD
Frank M. Phillips, MD
Rush University Medical Center
History and Examination
This 63-year-old otherwise healthy male presented initially in early 2017 with severe right leg radicular pain, neurogenic claudication and axial back pain. He reported leg heaviness and back pain with standing for 5 minutes, and symptoms resolved with sitting. After failing extensive nonoperative treatment including multiple epidural steroid injections, he underwent a minimally-invasive laminectomy and discectomy from L2-5 in late 2018 with initial resolution of claudication but persistent back and groin pain, right lower extremity radicular symptoms and bilateral anterior shin numbness.
On examination, he has well healed posterior incisions and a left pfannensteil incision from a prior hand-assisted laparoscopic sigmoidectomy in 2015. He has normal clinical posture and ambulates without assistive devices. He has decreased sensation in an L4 distribution bilaterally. Lower extremity strength is normal.
Pre-operative Imaging:
Standing preoperative lumbar radiographs demonstrate multilevel disc degeneration (Figs. 1-2) Sagittal and axial T2 MRI and axial T1 post-contrast MRI performed after MIS laminectomy (Figs. 3-4) demonstrates adequate central decompression with residual multilevel foraminal stenosis seen on parasagittal T1 MRI (figure 5)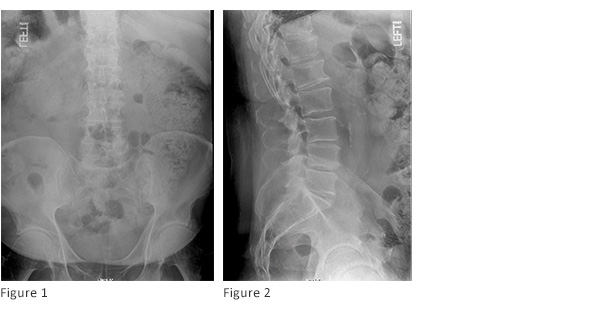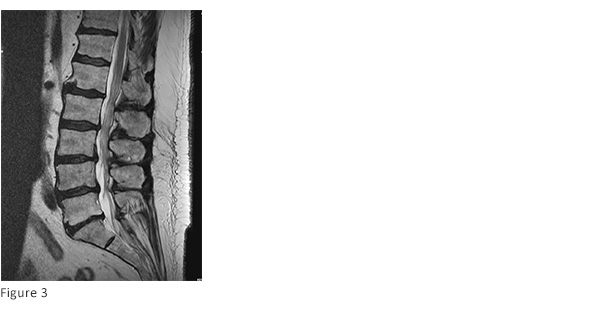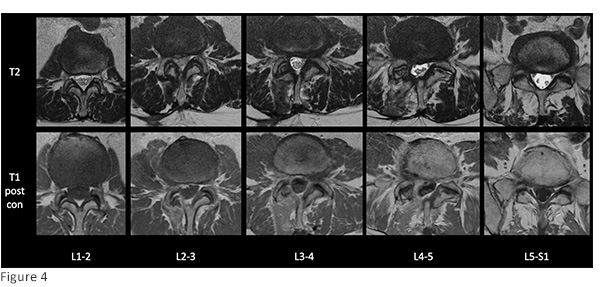 Diagnosis
63-year-old male with persistent low back pain and radiculopathy secondary to multilevel degenerative disc disease with resulting foraminal stenosis.
Treatment
Goal: Multilevel foraminal decompression
Challenge: Prior abdominal surgery and prior laminectomy
Surgery selected: L5-S1 anterior lumbar interbody fusion through a right-sided approach and L3-4 and L4-5 transpsoas lateral interbody fusion. This approach was chosen to address his multilevel cranial-caudal foraminal stenosis through restoration of interbody height via interbody implants. The right-sided ALIF approach avoids prior scarring from previous sigmoidectomy and LLIF allows for indirect foraminal decompression while avoiding posterior scarring.
Pearl: Pedicle screw instrumentation was placed with the patient in the lateral position. Patient positioning is paramount to allow for adequate intraoperative fluoroscopic views at each level and screw medialization without interference from the operating table.
Outcome
Intra-op: Anterior L5-S1 interbody fusion using a 14x32x38mm lordotic cage performed in the supine position. Patient was subsequently positioned in the lateral position where L4-5 and L3-4 lateral interbody fusion was performed through a single lateral incision. Posterior pedicle screws were placed in the lateral position. Estimated blood loss was less than 100cc.
Peri-op: The patient's preoperative radicular pain resolved immediately postoperatively and back pain was improved. He remained in the hospital until he passed flatus (POD2) and cleared physical therapy (delayed due to mild postoperative hypotension) and was subsequently discharged on POD3.
Follow-up: At 2-month follow-up the patient reported maintained resolution of radicular symptoms and improved back pain. He had stopped taking preoperative opioid medications and pregabalin and his pain was controlled with occasional tramadol. Follow-up radiographs demonstrate maintained lumbar lordosis without evidence of hardware failure (figs. 6-7).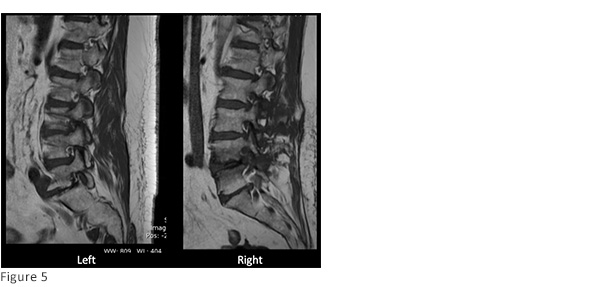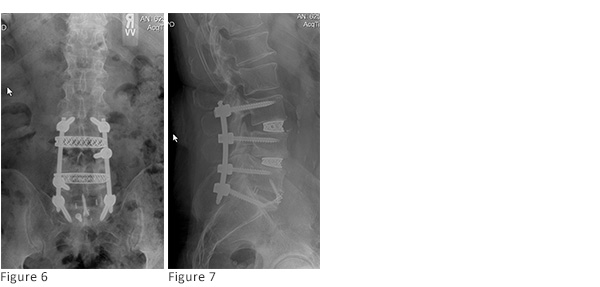 Discussion
While minimally invasive laminectomy, as demonstrated in this case (Fig. 4), may be adequate to address central stenosis, cranial-caudal foraminal stenosis in the setting of degenerative disc disease may be more difficult to achieve through a posterior decompression and risks the possibility of destabilizing the spine through extensive facet resection. Interbody implants are a viable option to achieve foraminal decompression due to loss of disc height in the appropriately indicated patient who would otherwise likely require fusion for extensive decompression; and in this case, the lateral approach avoids scarring in a patient who has undergone posterior decompression. Pedicle screw instrumentation in the lateral position can be performed safely and may decrease total anesthesia time by obviating the need for patient repositioning.