---
Single Stage Two Level Lateral Transpsoas Interbody Fusion (LLIF) with Posterior Percutaneous Pedicle Screw Stabilization
Jeevesh Mallik, M.D; Ibrahim Hussain, M.D; Vanita Motiani, M.D.
Sertac Kirnaz, M.D; Roger Härtl, M.D.
Weill Cornell Brain and Spine Center, Department of Neurological Surgery, New York- Presbyterian/Weill Cornell Medicine, New York, NY, USA
History & Examination
A 74-year-old female with a history of L4/5 laminectomies (x2 in 2003 and 2009) for stenosis and synovial cyst presented with progressive low back pain that radiated down the anterior aspect of the right leg for several months. Her pain was mechanical in nature that worsened with walking.
Her physical examination was notable for slight weakness in right dorsiflexion (4/5). She had failed multiple conservative therapies including physical therapy and transforaminal epidural steroid injections.
Imaging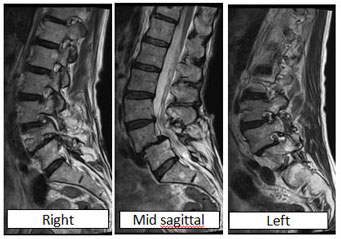 MRI of Lumbosacral Spine demonstrating L4-5 Grade 2 spondylolisthesis and foraminal narrowing on right > left at L3/4 and L4/5 levels. There is moderate to severe central stenosis at these levels as well.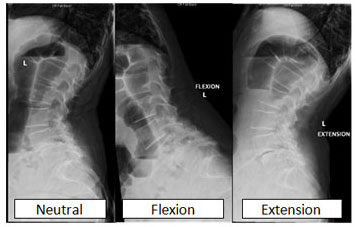 Flexion/extension X-rays of lumbosacral spine demonstrating worsening slippage at L4/5 with motion suggest dynamic instability.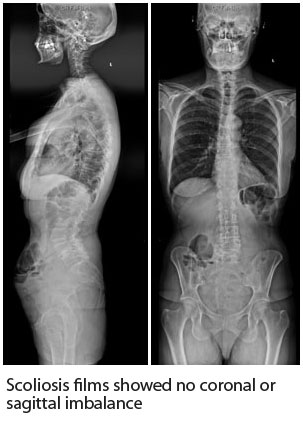 Diagnosis
L4-5 Grade 2 Spondylolisthesis with Right > left neural foraminal stenosis at L3-4 and L4-5 levels causing mechanical back pain, and radicular pain with weakness.
Treatment
Goal: Indirect decompression and arthrodesis at L3-4 & L4-5 levels.
Surgical plan: L3-4, L4-5 lateral transpsoas interbody fusion (LLIF) with posterior percutaneous pedicle screw stabilization as a single stage surgery all from lateral position with 3D navigation.
Surgical challenge: Achieving optimal trajectory to L4-5 disc space with lateral approach given anatomic relation to iliac crest, Single stage pedicle screw insertion in lateral position.
Surgical procedure: Patient positioned in right lateral decubitus position. Continuous free- running EMGs were performed throughout the case. A vertical skin incision centered over the two disc spaces was made. Blunt dissection through the lateral musculature was performed. Neuro-monitored tubes was docked on the psoas muscle and the orientation of the femoral nerve was identified. Once a safe corridor was found, the tube and retractor were docked over the disc space. Discectomy and endplate preparation were performed. Interbody cages were placed at the L3-4 & L4-5 levels under fluoroscopic guidance (26mm x 10mm and 22mm x 8mm, respectively). Once the lateral approach was completed, the table was angled away from the surgeon into the final position for optimal placement of pedicle screws from the lateral position. The navigation array was anchored to the iliac crest with Steinmann pins. An intraoperative CT scan was done to allow for screw navigation and to further confirm cage positioning. Using 3D navigation, a single step pedicle screw system (SSPSS) was used for placement of hardware bilaterally at L3, L4, and L5 via two paramedian skin incisions. was used Rods were sized and contoured and placed percutaneously into the polyaxial screw heads. and all screws A Intraoperative CT scan was again performed to confirm proper placement of all hardware. Screw caps were final tightened and morselized allograft was placed along the lateral gutters for arthrodesis. Hemostasis was achieved and standard multilayer closure was performed.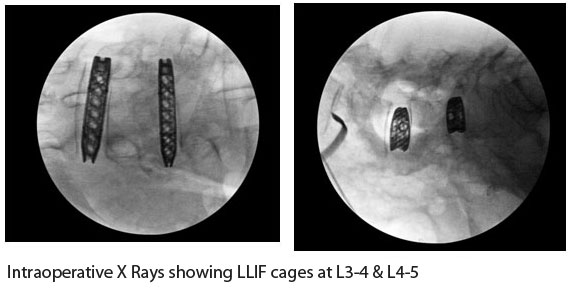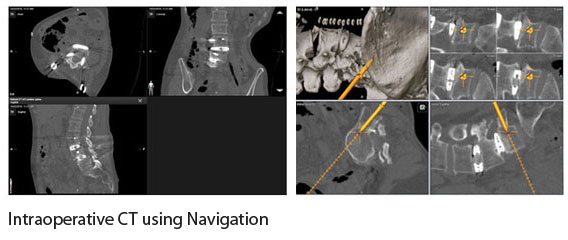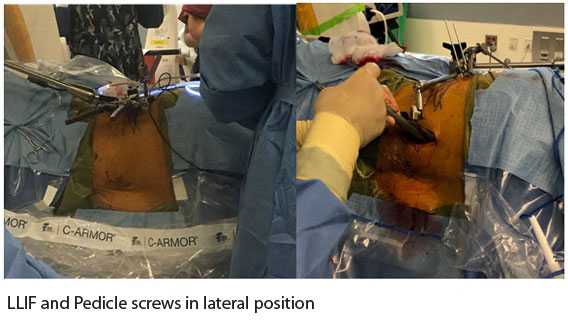 Peri-operative Course
The operative time was 2h 44m with less than 100cc blood loss. The patient was discharged home after 3 days. She had improvement in her dorsiflexion weakness and was neurologically intact.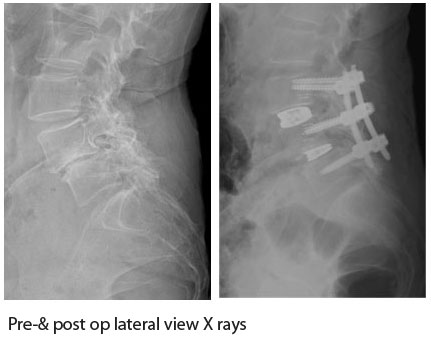 Discussion 
Minimally invasive spine surgery has witnessed rapid development over the past two decades concomitant with advances in navigation techniques and technology. MIS alternatives to traditional open surgeries have resulted in decreased intraoperative blood loss, inpatient hospital stays, and postoperative narcotic use while resulting in comparable outcomes.1,2 One such procedure is lateral transpsoas interbody fusion (LLIF) that provides excellent indirect decompression and has lower rates of cage subsidence 3,4. The initial positioning in LLIF is a cardinal step for successful surgery. It needs to be ensured that the surgical working plane is perpendicular to the sagittal plane of the disc space and requires a clear fluoroscopic shot in both the AP and lateral planes or else cages can be placed obliquely due to parallax error5. Another important part of the procedure is stabilization with pedicle screw fixation. Many surgeons prefer to change the position from lateral to prone to perform pedicle screw fixation. This is not only less convenient for the surgeon but also increases the intraoperative time significantly. In our case LLIF was performed at two levels with 3D navigation assisted pedicle screw fixation at three levels without changing the patient position. Doing the procedure in a single stage without changing the position is technically demanding and involves a learning curve but keeping in view of the overall benefit the procedure is worth considering.
Nerland US, Jakola AS, Solheim O, et al. Minimally invasive decompression versus open laminectomy for central stenosis of the lumbar spine: pragmatic comparative effectiveness study. 2015;350:h1603.
Imada AO, Huynh TR, Drazin D. Minimally Invasive Versus Open Laminectomy/Discectomy, Transforaminal Lumbar, and Posterior Lumbar Interbody Fusions: A Systematic Review. 2017;9(7):e1488.
Isaacs RE, Sembrano JN, Tohmeh AG, Group SDS Two-year comparative outcomes of MIS lateral and MIS transforaminal interbody fusion in the treatment of degenerative spondylolisthesis. Part II: radiographic findings. Spine (Phila Pa 1976) 2016;41(Suppl 8):S133–S144.
. Sembrano JN, Tohmeh A, Isaacs R, Group SDS Two-year comparative outcomes of MIS lateral and MIS transforaminal interbody fusion in the treatment of degenerative   Part   I:   clinical   findings. Spine   (Phila   Pa   1976) 2016;41(Suppl 8):S123–S132.
JA, et al. Clinical and radiographic outcome in less invasive lumbar fusion: XLIF at two year follow-up. J Spine Neurosurg 2013;2:1-6.